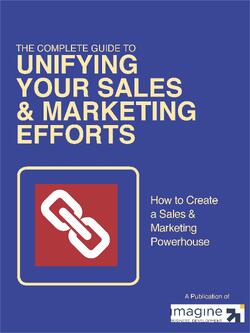 If a division between your sales and marketing team is still exists within your company, you're squandering opportunity, losing sales, and stunting your business growth.
Organizations with good alignment between sales and marketing teams achieved 20% annual revenue growth in 2010. By contrast, companies with poor alignment saw revenues decline by 4%.
Ensure that you are unifying your sales and marketing efforts to function as a two-pronged, but unified, sales engine and you'll see remarkable business results. Download our guide to develop a strategic approach to a solid sales and marketing alignment.
By reading this 64-page ebook, you will find out how to:
Set up closed-loop reporting

Define your funnel stages

Implement a service-level agreement (SLA)

Track and hold both teams accountable through dashboards & reporting

Keep the sales & marketing communication flowing