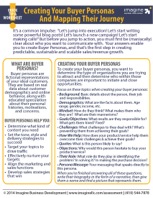 It's a common impulse: "Let's jump into execution! Let's start writing some powerful blog posts! Let's launch a new campaign! Let's start making calls!" But before you jump to action, you must first be (maniacally) clear about who you want to communicate with. Your answers enable you to create Buyer Personas, and that's the first step in creating predictable, sustainable and scalable sales/revenue growth.
In our first Quick Tip we share the process to quickly creating effective buyer personas and mapping their journey. Additionally, we provide a worksheet so that you can map your message to each persona, at their stage in the journey.
Better messaging meets shorter sales cycles and faster, more predictable growth.