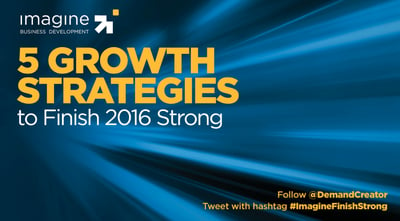 It's hard to believe but the 4th quarter of 2016 is here. Where is your organization in relation to plan? Is your team on target? Way behind? Almost there?
No matter where you find yourself relative to plan, it's not too late to finish 2016 strong or more importantly, to start building a solid foundation for 2017. But how do you do that?
Well, we've produced this on demand webinar to show you. In the webinar, Imagine's Founder and CEO, Doug Davidoff shares five growth strategies that will help you finish 2016 in a great place. He talks about:
How to prioritize your leads and pipeline
Implementing new campaigns - and which types to try
Including Account Based Marketing in your strategy
Launching a reengagement campaign
Using influencers to fuel growth
Don't miss this opportunity to learn how to create the momentum you need for the 4th quarter and next year. Watch now!